Pollo al Forno con Rosmarino
Chicken Roasted Italian Style with Rosemary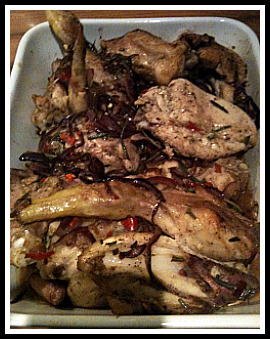 When should I make it?
This is a variation on a classic Italian dish and is easy to prepare so suitable for a family dinner any day of the week.
As with most Italian dishes there is a variety of ways to make this. I have always found this way to work best for me though. For me, it is vital that the chicken is cooked on the bone for the best result.
---
How long will it take?
This is one of those dishes that has a little bit of preparation work at the start but then is just left in the oven to finish. But total cooking time including preparation is about 45 minutes.
---
---
What ingredients do I need?

You will need:
1 Free Range (preferably corn fed) chicken skinned and cut into about 8 pieces.

1 onion, finely chopped

Small red pepper finely chopped (optional)

Fresh chilli and garlic to taste

Seasoning and herbs – Salt & Black Pepper, fresh rosemary

Olive oil

A glass of white wine

---
Can I use any alternatives if I can find certain ingredients?

You could make the same recipe with rabbit or guinea foul.
---
What preparation do I need to do / what can I do in advance?

You need to skin and cut the chicken up but you could get your butcher to do this. You also need to finely chop the onion, garlic, chilli, rosemary and pepper (if using).

---

What are the main steps?
Gently fry the chopped onion, garlic and chilli (and pepper if using) in olive oil for about 3-5 minutes.

Add the chicken pieces and brown.

Then add the wine to the pan and let reduce for a minute before adding the chicken with all the ingredients from the pan into a baking dish and sprinkle over the rosemary before placing in the oven at about 200 degrees.

Check on the chicken after about 15-20 minutes, basting as necessary.


Once the chicken is cooked through, remove from the oven and serve.
---
How should I serve it?
Traditionally this dish is served with roast potatoes. It goes well with some fresh vegetables too depending on what is in season.
---
Are there any variations to this recipe that I could try?

Yes! Rather than roasting the chicken in the oven, you could "pan roast" it by leaving it in the pan, adding the rosemary, putting a lid on the pan and turning the heat down. This can make for a more succulent and juicy result with more sauce being generated in the pan.

I like to also add mushrooms to this dish, they work very well with the chicken and you end up with a mushroom sauce. You can always add some cream to that too for more of a Northern Italian twist! Adding a few sun dried tomatoes can also give the dish an extra dimension.

---
What are the origins of this recipe?
This recipe is based on typical dish from the Rome and Lazio region.
---
Like this recipe? Why not share it with friends on Facebook?



Simply click on the button below:

Share
---
---