Discover Homemade Pasta...
Home-made Ravioli stuffed with butternut squash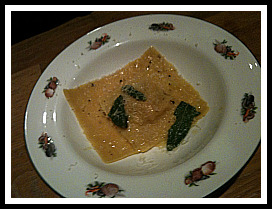 When should I make it?

You need time for this recipe! You also need a bit of patience but the rewards are there at the end of the journey and the more often you do it the easier it gets!

It's a great dish to make for a dinner party if you want to impress your friends! You can also do a fair bit in advance allowing you to spend more time with your guests and less time in the kitchen.


---
How long will it take?
There are three elements to this recipe: the pasta, the filling and the sauce and in total to make it from scratch I would set aside a couple of hours - especially if this is your first time making fresh pasta!
---
---
What ingredients do I need?

To make fresh pasta you will need:
100g of flour (type 00) and 1 egg (best quality you can find) per person
Pinch of salt
To make the filling you will need:
1 Butternut Squash
A good handfull of parmasan
A good handfull of good quality breadcrumbs (not shop bought!)

A few rocket leaves
To make the sauce
---
Can I use any alternatives if I can find certain ingredients?

You can make any type of filling you like. It doesn't have to be vegetarian either! Some possibilities include, mushroom, pumpkin, spinach and ricotta and even bolognese. It can be a good way to use up leftovers by mixing a vegetable or a minced meat with a cheese (most usually ricotta).


---
What preparation do I need to do / what can I do in advance?

You can make the fresh pasta in advance. Some people like to make a lot of fresh pasta when they make it (as it does take time and can be messy!). If you do this, you can freeze it either at the dough stage in small batches and take it out, defrost and use it as you need it. You could also freeze the ravioli once you've make them.

The filling too can be made separately and in advance.

---
What are the main steps?
To make the pasta:


Place flour on a large clean surface and make a well in the middle
Crack eggs into the well
Begin to mix eggs with the flour (Start with a fork but you'll soon need to get your hands dirty!)
As the flour and egg mixture comes together, begin to nead.
If it is too wet it may need more flour and if it is too dry it may need more egg.
Continue to nead until the dough becomes elastic
Wrap dough in clingflim and place in a cool place for about 30 minutes
Roll the dough out into 2 thin and flat sheets either with a rolling pin or pasta rolling machine if you have one.
You could mix the ingresients in the initial steps above in a food processor if you wish.



To make the filling:





Cut the butternut squash into slices (about an inch thick)
Lightly score the slices with a knife
Place on a lightly oiled baking tray and bake in the oven on a moderate heat until soft
Leave to cool slightly once removed from the oven and then remove the flesh, discarding skins and any remaining seeds.
In a bowl, mix and season the butternut squash with salt and pepper
Slowly add some breadcrumbs and parmasan continuting to mix
Allow mixture to get a bit thicker. (like a paste - but not too thick)
Add a few finely chopped rocket leaves to the mixture
You could mix the ingredients in the final few steps above in a food processor.



To make the Ravioli:
Place small teaspoon sized portion of the filling onto one of the pasta sheets at intervals depending on the size of ravioli you want to make
Brush around each of the small mounds of filling with beaten egg or water
Place second sheet of pasta over the sheet with the fillings on
With each mound of filling start to push the second layer of pasta down in such a way as to remove the air from the pocket of filing.
Once you do this with all 'filling pockets' you should then end up with a sheet of pasta from which you can cut out the individual ravioli.
Cut out each ravioli one by one, dust it with flour and put it to one side.
Leave the ravioli to dry a little before cooking in boiling salted water
To make the sauce:
In a pan over a low to moderate heat add some butter and the sage
As the butter begins to melt add the ravioli and coat with the sauce.
It is sometimes a good idea to reserve some of the water the pasta has been cooked in and add a spoonful or two to the ravioli and butter if it looks a little dry for your taste.
---
How should I serve it?

Ravioli are often served with butter and sage sauce and a sprinkle of fresh parmasan. They can also be served with a pesto sauce or even a simple tomato sauce.

---
Are there any variations to this recipe that I could try?
You can make ravioli of different shapes and sizes as well as any number of the different fillings mentioned above. The only restraint is your own imagination!
---
What are the origins of this recipe?
It seems likely that ravioli originated in northern Italy but now is enjoyed with different fillings throughout the country.
---
Like this recipe? Why not share it with friends on Facebook?



Simply click on the button below:

Share
---
---