Where to eat the best Italian Food?
Riccardo's Restaurant
South Kensington, London SW3

View Larger Map

Where is it?

Riccardo's is a real taste of Tuscany in the heart of South Kensington. It can be found at 123 Fulham Road, SW3 6HU.

---
What is it like? What should I expect?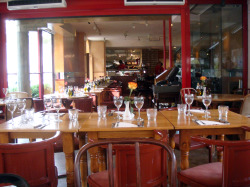 Riccardo's is a well established Tuscan restaurant. The menu is varied and moany dishes are small portions (starter size) allowing you to order 2, 3 or 4 dishes per person or dishes to share / taste!
The food here is simple allowing the quality ingredients to speak for themselves. The restaurant can get very busy and the outside tables are a premium especially in the summer.
---
---
When do they open? When should I go?
They are open every day and Saturday and Sunday 12pm - 11.30pm.
If you live locally, they even have a delivery service so you can enjoy their food at home!
---
What is their speciality?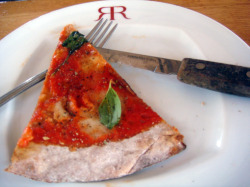 Riccardo's have a great selection of wheat-free and gluten free options on the menu. Why not try their spelt / corn / rice spaghetti, Kamut fusilli or spelt pizza!
---
How do I make a reservation?


Call them on 020 7370 6656

---
Like this place? Why not share it with friends on Facebook?



Simply click on the button below:
Share
---
---
Do you agree?
Why not add your own rating and review based on your own experiences?