Spaghetti alla Carbonara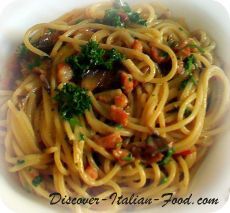 When should I make it?
This is a classic and easy to make so is ideal for a quick supper. The ingredients are not seasonal so it's fine to make this at any time of the year.
That said, it's not the most healthy of dishes and it can be quite heavy so it's not a dish you'd want to be eating too often!
---
How long will it take?
Depending on the pasta you use it should certainly take no longer than about 15-20 minutes in total (and less time than that if you use fresh pasta).
---
What ingredients do I need?

The beauty of this recipe is it uses ingredients you should generally always have in stock in your kitchen:

For about 4 people you will need:
400g Spaghetti (I actually prefer dried pasta for this recipe but you can use fresh)

100g Pancetta (diced)

3 Large eggs

50g Fresh Parmesan cheese (grated)

50g Fresh pecorino cheese (grated)

Parsley (chopped, I prefer the flat leaf variety for this recipe)

Seasoning – Salt & Black Pepper

Olive oil
---
---
Can I use any alternatives if I can find certain ingredients?
You can use diced streaky bacon (or even chopped roast ham) as an alternative to pancetta. You will get a different result but still a tasty one!
You can use basil or rocket as an alternative to parsley.
You can use pecorino as an alternative or even in addition to Parmesan cheese.
Spaghetti is the classic pasta shape for this recipe but something similar like linguini or tagliatelle would be fine.
---
What preparation do I need to do / what can I do in advance?
This is so quick there's no significant preparation work to do. The cheeses will need to be grated - I would not advise buying pre-grated cheeses they simply don't taste as good!

Buying pancetta already diced will save you some time though.
---
What are the main steps?
Fry the diced pancetta over a medium heat in olive oil. I like to cook the pancetta well until crispy.

Meanwhile heat a pan of salted water for the pasta and add the spaghetti when the water starts to boil. Cook spaghetti in accordance with instructions. Fresh pasta should only take about 5 minutes or less, dried pasta will take much longer.

Beat the eggs together add some black pepper and then add the pecorino and most of the Parmesan (reserve some to add to finished dish)

Drain the pasta once it is al dente (reserve some of the cooking water) and add to the pan with the pancetta. Reduce heat to very low.

Pour egg and cheese mixture over the pasta and mix well. Be careful not to allow the eggs to scramble! Add some of the reserved cooking water if it becomes too dry.

Add chopped parsley.
---
How should I serve it?
Serve in bowls with extra sprinkling of Parmesan and some black pepper to taste. Some people like to drizzle a few drops of some good quality olive oil over the dish too just before serving.
---
Are there any variations to this recipe that I could try?
Yes! There are so many variations to this classic, some are not strictly Italian but still tasty so feel free to experiment!
Some recipes add cream which makes it richer and gives you more of a sauce. Others add only egg yokes and not egg whites
You could of course add some chili and garlic too. I have even seen people add ingredients such as mushrooms, peas or onions although I suppose strictly speaking that's moving away from true 'Carbonara'.
---
What are the origins of this recipe?
This recipe originates from the Rome / Lazio region following the 2nd World War. Its name originates from the Italian word for charcoal possibly suggesting it was a favourite of charcoal workers in Italy.
---
Like this recipe? Why not share it with your friends on facebook?



Simply click on the button below:

Share

---
---