Spaghetti aglio e olio con peperoncino
Spaghetti with garlic, chili & Olive oil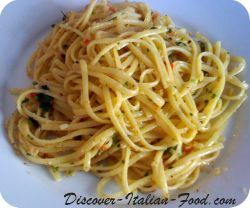 When should I make it?
This is the sort of dish you can make when you don't want to go to the shops!
It's so quick and simple to prepare and you should have all of the ingredients in stock!
---
How long will it take?
Depending on the pasta you use it should certainly take no longer than about 15 minutes in total.
---
What ingredients do I need?

For about 2 people you will need:
200g Spaghetti

1-2 Garlic cloves (or to taste)
1 Chili (depending on strength or more to taste)

Chopped Parsley

Freshly grated Parmesan cheese

Seasoning – Salt & Black Pepper

Olive oil
---
---
Can I use any alternatives if I can't find certain ingredients?
I would tend to advise not to tamper with a classic although you could certainly use linguini instead of spaghetti.
---
What preparation do I need to do / what can I do in advance?
This is a quick dish with little advance preparation needed. You just need to chop the garlic, chili and parsley!


---
What are the main steps?
Heat a pan of salted water for the pasta and add the spaghetti when the water starts to boil.

Cook the pasta in accordance with instructions on the packaging.

A few minutes before the pasta is cooked, start to fry the garlic and chili in a separate pan on a low heat. Be careful not to burn the garlic!

Drain the pasta once it is al dente (reserving some of the cooking water) and add the pasta to the pan with the garlic and chilli.

Mix and coat the pasta with the garlic and chilli oil in the pan add some of ther reserved cooking water (bit by bit) if it seems too dry.

Finally add the chopped parsley then serve.
---
How should I serve it?
Serve in bowls with extra sprinkling of Parmesan and some black pepper to taste. Some people like to drizzle a few drops of some good quality olive oil over the dish too just before serving.
---
Are there any variations to this recipe that I could try?
Try with some anchovy added with the chili and garlic. Or be inspired with your own favourite herbs / spices (rocket or paprika for example).
You could also sprinkle over some toasted breadcrumbs instead of parmasan cheese which given a nice texture to the dish.
---
What are the origins of this recipe?
This recipe originates from Rome. It's often seen as a perfect late night snack that a host can easily cook up for a hungry group of friends as the ingredients are nearly always in stock in most Italian kitchens.
---
Like this recipe? Why not share it with your friends on Facebook?



Simply click on the button below:

Share

---
---