Discover Minestrone...
Classic Minestrone Vegetable Soup with Pasta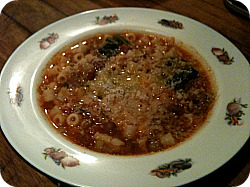 When should I make it?
This is a winter dish. It's a very filling soup especially so because of the pasta. But it is a great way to use up those winter vegetables.
Why not make a nice large batch? You can always portion it away and freeze it for a rainy day when you don't feel like cooking!
---
How long will it take?
Assuming you already have your stock, I would allow an hour to an hour and a half to make it depending on how much you're making and your knife skills (as there's a fair bit of chopping!)
---
---
What ingredients do I need?

You will need: The quantities are a guideline and should make enough soup for 4-6 people feel free to add more of the ingredient you like the most and less of those that you like less.

---
Can I use any alternatives if I can find certain ingredients?

If you cannot find cavalo nero you could use something like swiss chard, savoy cabbage or kale.

---
What preparation do I need to do / what can I do in advance?

You need to make a good quality homemade stock or you could reserve the water in which you cook the cavalo nero and use it as stock.

You also need to finely chop the celery, leak, onions and carrots. If you are not using tinned berlotti beans you will need to soak and boil if dried or simply boil if fresh.
---
What are the main steps?



Gently fry the onions, celery, leak and carrot in olive oil to make a sofrito
Meanwhile cook the cavalo nero in salted boiling water until al dente then remove, drain and coarsely chop.
Also cook the pasta in salted boiling water just for a few minutes keeping it al dente.
Add the tomatoes and stock to the sofrito
Then add the part cooked pasta and allow to cook for a few minutes
Then add the beans, herbs and cavalo nero
Continue to cook until all the pasta is soft and cooked.
---
How should I serve it?

Serve in bowls with a sprinkle of parmasan cheese and a drizzle of good quality olive oil.

---
Are there any variations to this recipe that I could try?
This is a vegetarian version of the recipe, you could add meat if you wanted.
Why not also try the recipe for Ribolita, just click here.
---
What are the origins of this recipe?
Minestrone is a typically Southern Italian dish and can be traced back to Roman times.
---
Like this recipe? Why not share it with friends on Facebook?



Simply click on the button below:

Share
---
---