Discover Porchetta...
Roast Shoulder of Pork with Fennel Seeds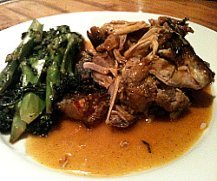 When should I make it?
This is a perfect dinner party dish! You have about 10 minutes preparation work then you just leave the pork to slowly cook for hours!
All you have to do when your guests arrive is take it out of the oven and slice it up!
---
How long will it take?
It needs a good 4 hours of slow cooking but the result is so worth the wait.
---
---
What ingredients do I need?

You will need (should feed about 6 hungry people):
1 shoulder of pork (boneless & tied, aprox 1,5kg)
A handful of sage leaves

A tablespoon of fennel seeds

About 6 whole cloves of garlic (no need to chop or peel)

1 star anise (optional)

A glass of white wine

Olive oil

Salt & Black Pepper
---
Can I use any alternatives if I can find certain ingredients?

If you don't like pork why not try this similar dish with lamb.

---
What preparation do I need to do / what can I do in advance?

None!
---
What are the main steps?



Season the meat with salt and pepper and heat olive oil in a pan large enough to hold the meat.
On the stove, brown the meat in the pan to seal it on all sides.
Add sage, garlic, (star anise if using) and fennel seeds to the pan followed by the wine.
Leave cooking for a couple of minutes then remove from stove, place foil around the pan to seal.
Transfer to the oven leaving meat skin side up and cook for an hour at 180 degrees.
After first hour, turn temparature down to 140 degrees and cook for a further 2 hours.
Remove the foil and sprinkle some sea salt on the skin then leave to cook for another hour to dry out and crisp up the skin.
Remove from oven, leave to rest.
You will find juices have formed in the pan which can be strained and used as a very tasty sauce.
---
How should I serve it?

Serve sliced with roast potatoes and / or your choice of vegetable. You will find the meat melts in your mouth and the skin is crispy in contrast.

---
Are there any variations to this recipe that I could try?
Why not also try the recipe for lamb shoulder, just click here.
---
Like this recipe? Why not share it with friends on Facebook?



Simply click on the button below:

Share
---
---